Hi! Here we are on another week of quarantine, so let's take a look at another interesting watch. Today we are going to talk about Seiko Presage SSA409J1. This is Limited Edition release from the famous brand. I doubt that you will be able to guess the main topic of this series. New watch is dedicated to…cocktail. Yes, you read it right, Japanese masters decided to celebrate creation of another Japanese master – Hisashi Kishi. New release is available at the moment, so I took a chance to check it closer.
Here you can read about another interesting Seiko watch.
Like our Facebook page so you won't miss new reviews!
Buy this watch in Helveti webshop.
Cocktail Time
Seiko Presage SSA409J1 come as a beautiful combo of unusual dial with classic styling. I would like to take a few words about Mr.Kishi and his cocktail first. First clue for you – name of this cocktail is "Honeycomb" and I hope it is not difficult to guess the main ingredient. Famous barmen decided to take honey from bees in Ginza district and create unusual flavor composition. I recommend to read some interviews with master so that you can understand better his views.
Fast forward to 2019 and here we Seiko who decided to commemorate special drink with special watch. Moreover, it comes as Limited Edition what might be appreciated by some fans. Main change is on the dial, let's start with it.
Honey on Your Wrist
Designers decided to develop honey theme with special dial which features honeycomb pattern. It would be to simple to just add hexagons on the dial and call it a day, right? Well, that's why we have some sections with unusual texture which should remind about frozen ice and its structure. Just like with any other feature, this one looks better in person, so I don't recommend to judge by photos only.
I am surprised that color variety here is quite minimal and you don't get something to bright and looking out-of-place. New pattern doesn't have influence on legibility because big indices are still here and painted in silver color.
Who knows, maybe it would be better to have these parts in gold for more unified look. I don't want to say it doesn't work, but something tells me golden accents could have helped whole design. Don't forget that seconds hand comes in gold color. :/
Note also special cutout at 9′ mark. It lets you see the movement in the watch. Whole dial is covered by Hardlex. Yes, there is no sapphire glass, and it is a bit strange in a Limited Edition watch. I highly doubt fans would reject paying a bit extra for sapphire addition. By the way, size of the watch equals to 40.5 mm so it should be fine for average man's wrist.
Movement
SSA409J1 features good old 4R38 caliber inside. Power reserve should be equal to 41 hours. There are no additional complications, even date window is omitted. Movement can be seen through the rear clear cover. Note that rotor is finished in golden color.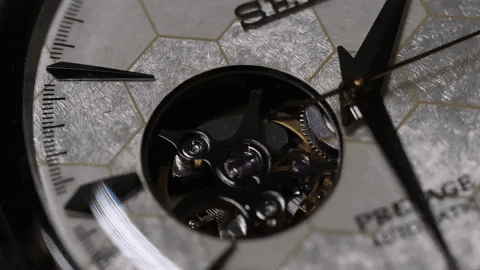 Straps
There is no mistake in the title above – watch comes with two straps in the nice box. Both are leather variants, one with croco pattern and second one with smooth finish. This is dress watch, so there is no surprise in such choice. Moreover, it is always nice to have some variety out of the box.
As long as we talk about the box, it is beautiful here and definitely suits "Limited Edition" status. Some might even use it as a travel box for their Seiko. 🙂
Seiko Presage SSA409J1 – Price
New release retails roughly at 650 USD what sounds reasonable for the limited edition. There will be only 6000 pieces produced and you still have a chance to be in this number. Overall watch looks like a decent choice for those who would like to get something special without spending crazy money. There are few rivals which can offer the somewhat comparable styling in the same price range.
It should be noted that this release comes in pair with ladies version in smaller size – Seiko Presage SSA781J1. Two watches will cost around 1300 USD and you will get two matching timepieces for you and your second half. As long as you don't need extra functions and prefer classic look – SSA409J1 should be worth checking.