Today we are going to talk about special watch from the well-known brand. Seiko Alpinist SPB199J1 will be produced in 2020 pieces only and I got a chance to check one of them closer. This edition received "Mountain Glacier" name and should be available in November. It is easy to guess that the main change is in the dial color, but there few extra things inside. Let's take a careful look together.
Here you can read review with another Limited Edition Seiko.
Like our Facebook page, so you won't miss new reviews.
You can buy today's watch in Helveti webshop.
Dial
I suggest to start with the main "hero" in the new watch. Yep, this is the dial because it received exclusive color. In person it looks light blueish and with sunray finish it creates a beautiful effect. Such cold shade might be not up for everyone, but it still looks great and should work with various strap colors. We will talk about that later. 😉
I think it is worth taking a look at general layout as well. We didn't review new Seiko Alpinist, so why not to check what is here. First feature that immediately catches your eye – mix of indices and even numbers. This was also present on the first release, so we can call it as traditional feature of Alpinist series. New version can be easily recognized by date indicator with magnifying section over it. Such thing looks great and definitely adds some visual interest to the whole design.
One more thing that we can't forget – inner compass scale which is rotatable. Handset is finished in classic style. Hour and minute hands should have a lume coating, traditional feature of Seiko watches.
Case
Seiko Alpinist SPB199J1 is surprisingly compact in size, case measures only 39.5 mm. Add here 13.2 mm thickness and you would get a decent watch which is not huge and sits nicely on average-sized wrist. I have to admit that all this feels unusual in modern times of obsession with big numbers. All this comes in polished finish which looks great, but will require due care from you. Water protection is claimed to be at 200m level.
Dial is covered with sapphire glass, what is a must in such watch. Rear cover is clear, so you can see the movement through it. As for crown, there are actually two of them. One is placed at classic 3″ position and adjusts date and time, while the second one sits below and can be used to rotate internal compass scale. Note that main part is also secured with crown guard from both sides.
Movement
Today's watch comes with 6R35 automatic movement inside. This is well-known caliber from Seiko which should provide impressive 70 hour power reserve. As it was mentioned above, movement is visible through the clear caseback. I wish this part would have less writings though…
Strap
Another special feature for today's Limited Edition is hidden in strap color. It comes in dark green shade which works beautifully with light blue dial. We get interesting type of color which looks different under bright and dim light, you might notice it in our video.
Nevertheless, that's not all because watch comes with one additional nylon strap in sand color. These two options create completely different perception, so both are more than welcome. It's worth noting that these two come with three-fold clasp.
In Use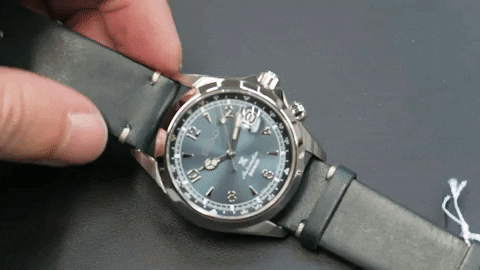 Straightaway I have to note that I didn't have a chance to spend several days with this watch. Polished case makes it a bit difficult to preserve everything in crisp condition, so I decided not to risk it. Nevertheless, it is safe to say that this watch will be fine even on thin wrists. Who knows, maybe there will be some ladies brave enough to wear Alpinist too. 🙂 It is not over-masculine and might work as unisex timepiece.
Dial is easily legible and I didn't have any issues here. Both crowns are easy to handle even though their size is not that big. I should also mention that straps surprised me with their quality. They are not overly hard and nicely wrap around your wrist. It is great to have several options out of the box, future owners will be able to switch between them wherever they want. Did I mention that both work nicely with light blue dial? 🙂
Seiko Alpinist SPB199J1 – Price
So, what do we get in total? New color combo, two straps, special package and limited amount released. For all this you will have to pay hefty price of 1000 USD. Sounds not that much for Alpinist fans, and I am sure that Mountain Glacier will be sold out quickly. From the other side there are a bit more affordable Limited Editions from the same brand, which offer completely unique design. It can be, for example SPB129J1 with classic styling and three different color. If you are not worried about case size, I recommend to check both because these are high-quality rare watches from the famous brand.
Of course, don't forget to write your opinion in comments and watch video-review to see new timepiece in action.