This watch might be familiar to you in case you've read our Baselworld reports. Meistersinger Vintago was introduced on the famous Swiss watch expo and we got a chance to check it in person. Nevertheless, those few minutes were not enough to fully understand this watch. It was clear that there is something underneath to be discovered if you spend a little more time together. What I thought would be a simple watch review turned into a true love-hate experience. I spent one month testing new Vintago and have to admit the importance of getting used to such timepiece. Let me try to explain it in this review.
By the way, here you can read about another Meistersinger watch.
Like our Facebook page, so you can get fresh articles on time.
Discreet
Meistersinger Vintago is a relatively fresh watch from the German watchmaker. Designers decided to take a classic one-hand philosophy and pack it into equally classic design. Official legend says that its style mimics 60-s watches. Well, there is something, yes…
It is important to try this watch at least for one day in order to understand that it is completely different from other Meistersinger watches. This brand tried various genres recently, but I think the new model has all chances to become a decent choice for the main watch in your collection. Note that officially this watch belongs to "Classic" model range.
Everything starts with the case. To my mind, that is the element which sets the whole mood here. Dial comes second. Take a look at photos and you will understand what I am talking about. First of all, Meistersinger watches are usually thick, but that's not a bad thing. Vintago on the contrary offers sleek slim (10,15mm) case with clean lines. It is elegant, and is thinner than traditional offering from the same brand. Such change brings completely new experience while wearing this watch everyday.
The thin case is suitable for cuffs on your shirt. It just easily slides in and out with no discomfort. You don't feel it on your wrist – it just stays unnoticed, in a good sense, of course. Vintago is so comfortable to wear that you just wait for the next moment when it gets back on your hand.
One small secret is that the whole case comes with curved sides from both the top and the bottom. Such design cue makes Vintago even lighter and thinner visually. It does look vintage, just like classic watches from the 60's. Oh, and let's not forget about the case size – just 38 mm.
There are no polished surfaces on this watch. Brushed finish adds to "usability" of the newcomer and makes it easier to wear on a daily basis. Scuffs and scratches are not that easy to notice on that finish and that's actually an interesting take on traditional Meistersinger design. It is also great that even in such version Vintago can work as dress watch.
Dial
On the photos, you can see Ivory version of Vintago. This is one out of four available types, three others include Opaline-Silver, Blue, and Black. Each has its own appeal, but Ivory shade adds to vintage feel of this watch. The color doesn't look cheap and there is no faux patina. Everything is natural and true.
Extra interest is added with central disc creating additional level on the dial. Date indicator is also different from those typical windows. Cut-out arc displays five dates simultaneously and today is marked with the polished metal index. Somehow it works with the overall watch styling. I have to admit – in some situations this indicator was handy to make plans two days ahead. 🙂
Note that depending on dial color the hand will be either black or white. Ivory version comes with pure black and indices contrasting with the light dial color. It is barely noticeable, but hand tip is slightly curved. There is no seconds hand, just forget about it. Such decision helps to avoid chaotic movement on the dial. Vintago is about smooth shift of the only hand over nicely painted indices.
All this beauty is covered with curved sapphire glass, looks in place here. Maybe this part's shape is the reason why it is difficult to notice bend on the main hand tip.
Movement
Vintago comes with Selita SW200-1 movement inside. This is Swiss calibre which features 26 jewels and 38 hours power reserve. Meistersinger modified it with several visual fixes.
Everything is adjusted by the small crown which has two positions. It is a typical pull-push part and is easy to operate. I don't have the smallest fingers, but it was still fine to set the right time during my trips.
Rear cover features clear insert which displays movement inside. It is fixed with the help of six brushed screws. I am glad to see that glass is not obscured by anything. All writings are engraved in metal and only rotor features Meistersinger logo in gold.
Strap
Strap was one of the things that made Vintago experience incomplete. Brown leather strap looks good and more or less flexible, but just doesn't feel right because of stiffness. The buckle is polished with Meistersinger logo which looks slightly off place here. Seems to me that brushed case would better work with brushed buckle. Small details do make a difference.
I see new watch with some simple leather calfskin strap which would be more tender around your wrist. Such addition would let you feel small thickness of the watch. Maybe even suede strap or NATO would work nicely here. Well, let's hope that we would see such editions in the future.
Watchmaker offers textile and milanese options as separately sold upgrades. I would recommend them as perfect candidates for your Vintago. This watch has all the chances to become a universal thing for various strap types.
Wearing Experience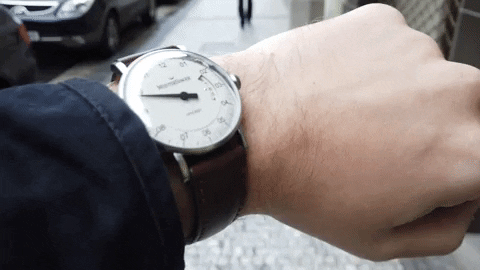 The first and the most important idea you should put into your head with Meistersinger watches – forget about minutes. You can look as long as you want, but it is impossible to tell if it is 02 or 04 minutes. It is the main idea of the German watchmaker – embrace the time and don't run after each minute. It might be unusual after "two-handed" watches, but easy to get used to.
Due to small size and weight I chose this watch for my trips. This watch just wraps around your wrist without any extra issues. The only thing I would change for even better experience is the strap. As I wrote above, Vintago has all the chances to work nicely with NATO-strap or maybe even paratrooper one. Those will definitely suit classic theme here.
I have to admit that such watch won't be the perfect choice for everyone. There are no complications, no "special" design cues or any other extras. Vintago offers a completely different experience – timekeeping with only one hand on the dial. Believe me, it might sound simple, but it is something everybody should try. It is as refreshing as walking in mountains alone. This timepiece helps you to rest from all those unnecessary things around and embrace essentials.
As you might have already guessed – there is no lume on the dial. Maybe it would be great to have some yellowish glowing layer at least on the hand, but manufacturer decided not to do it. Another notable thing – water protection. It is rated at 5ATM, so this is not the right watch for your next diving adventure.
Meistersinger Vintago – Price and Availabilty
I guess the main rule of testing new watch is to compare it with others. Well, Vintago is not that easy to match with something equal on the market. Price is set at 2300USD. In case you search for low-key timepiece with high wearing comfort, this might be one of the few choices on the market.
The main advantage of this watch is that it doesn't try to "look like". No, Meistersinger decided to choose classic styling and follow it up to the smallest features. All this made it possible to create something you would want to wear everyday.