Today we are going to talk about fresh watch for…fishermen. 🙂 Meet the Casio Protrek PRW-7000X – new Limited Edition release from the famous brand. We are all used to see various special releases in G-Shock series, but Protrek is not that often seen in such category.
Here you can read review with another great watch from Casio.
Like our Facebook page so you won't miss new reviews.
Watch can be purchased on Helveti webshop by clicking this link.
Carbon Top
First thing that is really hard to miss – new carbon bezel on this watch. Woven pattern looks great in person and I am glad to see functions names without white outline. Such decision makes whole style "cleaner" and designers managed to avoid cheapish feel. The only thing that would be cool to see – carbon fiber on the dial.
Casio decided to place metal accents there with grooved polish which looks great on the bright light. Note that there are no other color versions, only this one. PRW-7000X might catch off-guard those who are usually biased against digital dials. Here everything looks just in place and whole dial is legible and easy to understand. Unlike other Protrek watches, new model gets display in the top section. Of course, such addition greatly enhances features set in the watch.
It is worth noting that hands and indices are covered with superluminova but with unusual shade. Creators decided to add red instead of green, such color choice should come handy in dark. It will take less time for eyes to adapt back and forth.
Case
Watch comes in matte black color. Frankly speaking I am not sure how it will tolerate scratches and scuffs. Let's hope that it will be durable enough to withstand everyday use. Carbon bezel should help you keep "face appearance" in tact. Whole dial is covered with sapphire glass, what is must-have in such watch.
Water protection is clocked at 200m what is reasonable level for everyday use. I don't think you will go diving with this watch. Casio PRW-7000X should be fine with splashes and short-time dives in water. In other words with everything you might encounter during fishing. Here we can move to the most interesting thing in this watch.
Fisher's Little Helper
Casio decided to dedicate today's Limited Edition to all watchfans who like fishing. Digital display adds whole bunch of additional functions which can't be found in "simple" watch. This is true swiss knife for outdoor hobbies.
In one watch you can expect Tide Graph, Moon Data and Fishing Time functions. That's not to mention some standard stuff like compass, altimeter and thermometer. I would say even if you don't go fishing too often, this watch still might find some use in everyday life.
In Use
First of all let me mention the size of this watch – 52 mm with 120 g weight. Sounds like huge and light timepiece, right? Well, it is not as bad as it might sound. Watch sits nicely on the wrist, maybe thanks to relatively flexible composite bracelet.
Buttons are hard enough to press to avoid accidental activations. Note also large crown protection which might come handy as sleeve holder if you wear watch on your wright hand. The only thing that might be a bit problematic at first – remembering what to press in order to reach this or that function. Yes, it is more or less intuitive, but I always confuse the functions and needed buttons. Let's say it is matter of getting used to the watch. Worth noting special hand retraction functions for ease of reading the LCD display.
Casio PRW-7000X – Price and Availability
There is no word on how many pieces will be produced. You won't find any number on the caseback. Well, I guess we will have to believe Casio on this matter. Price is set at 1000 USD what might sound unusual for Protrek watch. Moreover, such price tag puts new watch among other digital alternatives from different brands.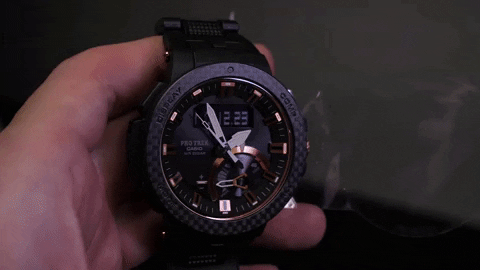 The main thing here is the focus on fishing and special functions aimed at this hobby. I like overall design which is finished in a more "casual" way and lets you wear PRW-7000X in any situation. All in all we have great pick with set of attractive features inside. Definitely take a look if you want a digital watch with unusual functions.